I don't think I'm the only one who thinks about pets who are long gone. Marmalade is the 'one who started it all' for me. His memory certainly lives on in my home through my girls Katze and Jayla. What better way to honor a pet who has passed by opening up your heart and home to a new pet who needs love?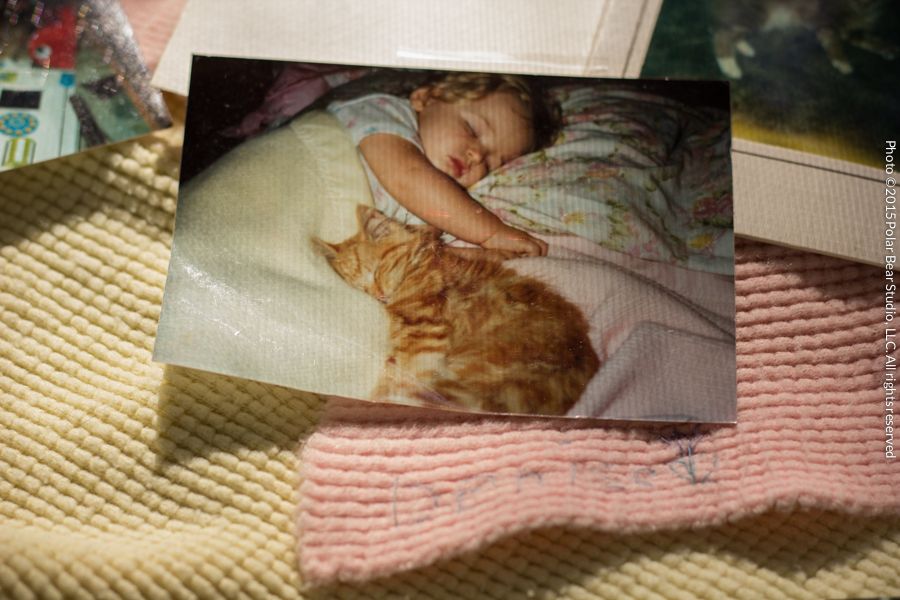 One of the creative projects I'm currently working on is a visual exploration of my family's long history of pet ownership and how it's landed me where I am now. This is the first image for that project that has the working title: Forever Felines.
This photo inspired me to create a self-portrait photo shoot with Katze and Jayla that would honor Marmalade's legacy.
Some things change, some things will never change. There's just something timelessly wonderful about a catnap with your cat. In order to tell that story I resurrected my old passion for digital collage, which was my medium of choice for my senior thesis at Ringling College of Art & Design.
With cats, you can't predict things. You have to assemble the image beforehand and hope they'll react as you expect them to.

However, cats love nothing more than to 'help' when you're sorting through papers or photos, especially smelly old photos.
The odds were certainly in my favor with this concept. Sorting through papers and photos is mentally exhausting work which also led to the story I wanted to tell of how my habit of cat naps with cats continues to this day.
First, a close-up, and below it the whole composition.
I really enjoy the visual juxtaposition of the floral bed sheet in the 80's to the modern floral sheets of today. I have the baby blankets in the shot three ways, in the original photo, underneath the photo, and in the modern interpretation, a constant visual element. A big fan of the daydreamy-movie
Bedknobs and Broomsticks, I ensured a golden knob on my victorian-style trundle bed from my office shined throug

h.



I used a tripod, remote, timer, and digitally painted the two images together with Photoshop. I'd work on the collage, let it sit for a day, and play with it more. I was content with the final image after 3 evenings of tinkering.
The Forever Felines project will be a personal project that I'll continue to play with while also working on another project that I haven't announced yet. It will require volunteer models again! I'm so excited about it, something totally unique and as far as I've googl-ed, it hasn't been done before! I just need to update all the signup forms and finish the details before the announcement.
I hate it when I can't find something. I wanted to share a specific old photo with you. It is probably my first pet photo I ever took, and I've been digging through all my photo boxes I have for the past month looking for it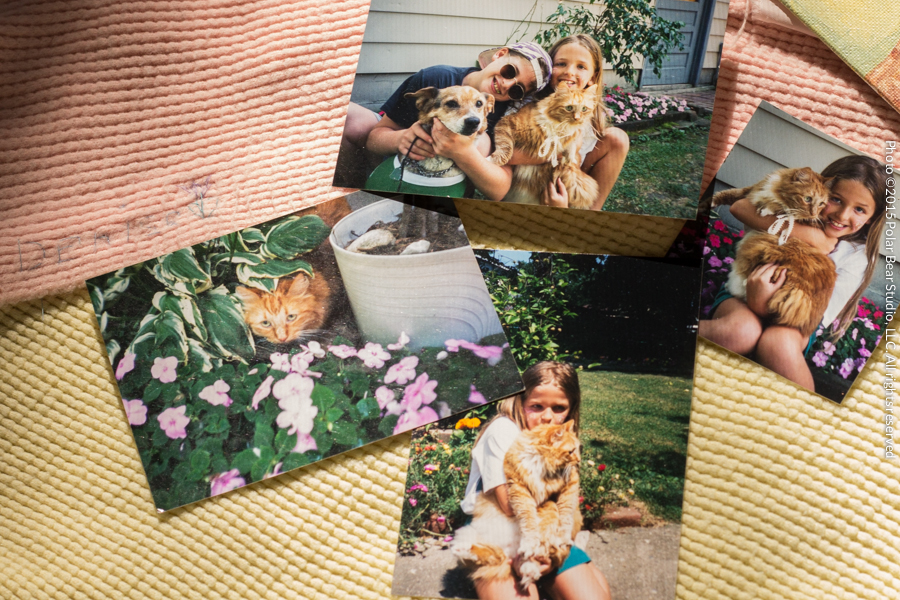 I was 8 or 9 years old when I was in 4-H and entered into the photography category. We had gorgeous flowers in our backyard that year, without a doubt the best flower beds of my childhood, full of various pink impatiens, red geraniums (our 4-H fundraiser) that smelled wonderful, and our mystery perennials who had resided in our yard longer than us.
It seemed obvious, at that time, that for my 4-H photography project I should take pictures of the flower beds. And I did. But some sort of creative impulse took me at the last moment, and I asked my Mom for permission to take Marmalade, my BFF (best furry friend) since I was a baby, out into the garden to take some shots of him amongst the flowers. Even though he was an indoor cat my Mom gave me permission, but warned me to be careful that he didn't run away. I had once lost a pet turtle who ran away. Think about that for a moment.
I tied a white ribbon with scalloped edges around his neck for a bit of pizzazz. The photo shoot went just as I had imagined it. Marmalade trusted me completely. I set him into the flower bed with his white ribbon, and I imagined he thought, "Meowow, this is pretty awesome." He wasn't afraid, and he didn't try to run away. It was just like a scene out of The Three Lives of Thomasina, one of my all-time favorite movies.
I got an awesome shot with my little disposable Kodak camera with real film (yes I'm dating myself a child of the 90s for sure)!
Afterwards, we put our dog Wendy, a mystery mutt with an ample amount of beagle, into my green soccer jersey. Then with my Mom as the photographer, my older brother Shawn and I posed with Marmalade and Wendy in different groupings of four or two around the back yard.
When I finally arranged my final project on white poster board, without a doubt the picture of Marmalade amongst the flowers in his white ribbon was my favorite. I did use the other flower shots, but I made sure to put Marmalade center stage of all of the shots.
With his long, orange silky-fur with the white spot at the tip of his tail, his darling ear hairs curling wildly, and bright green eyes that sometimes changed to yellow, he was a bonafide star in my mind.
I won a blue ribbon, pretty impressive for a disposable camera after I realized most of the others in my category were with 'real' cameras and some even developed in a darkroom. If those other contestants had known I had just simply had my film developed by the local pharmacy they probably would have been horrified. I was naive, and clueless. If I had known that beforehand I probably would have never entered into the photography category at all, I would have been intimidated and ashamed as if I was breaking the rules.
But to be clear, there were several blue ribbons, not just one. So I was sort of special,not the most. Regardless, it gave me a confidence boost, and I felt vindicated. This entire creative process has really stuck with me, but it has taken nearly twenty years for me to stop resisting my yearning for pet photography.
So, what does this have to do with my next project?
The title of the post, but I have not mentioned yet. I'm getting to it, hang on.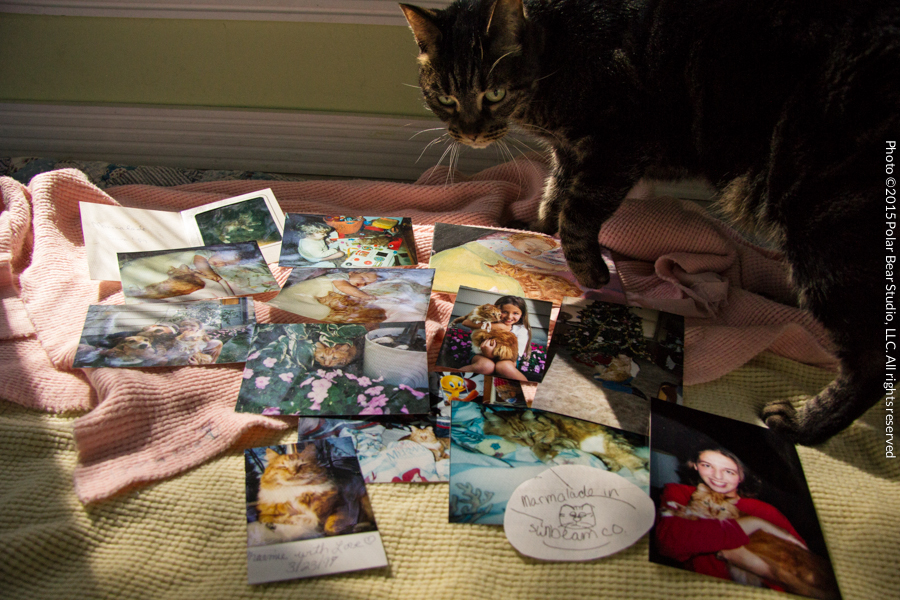 I've dug up so many treasured photos of Marmalade, as well as pets of my parents, Grandparents, and even Great-Grandparents. I'm the official keeper of the family photos since I whipped everyone into shape a few years back. With my Mom and maternal Grandparents moving here, everyone's photos fell into my lap and I've separated them into something resembling order into archival photo boxes, with Katze's help of course.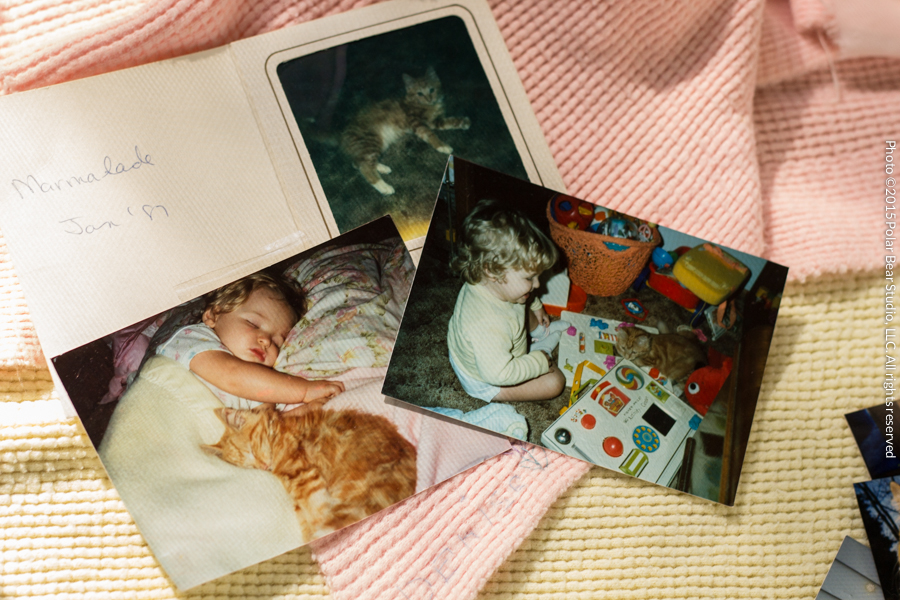 Here are some of the earliest and cutest photos of Marmalade and I, circa 1987. I even still have the pink and yellow blankets. My girls, Katze and Jayla, love these blankets, just like Marmalade did.
And here's the last photo of Marmalade and I, shortly before he died. I was 16.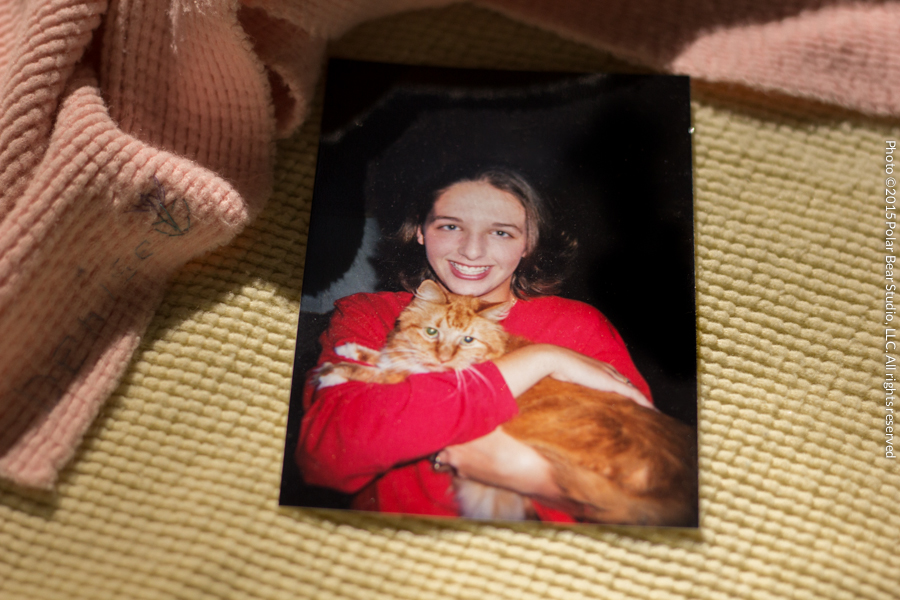 One thing I've discovered is the extensive lineage of animal-loving nut cases in my family is impressive!
It's inspired me to create a new collection of work around it. I'll be visually exploring my family's long history of pet ownership and how it's landed me where I am now. It will be a mix of modern photography with antique and vintage, and very dreamy. I'll be mixing digital collage illustration with pet photography.
And in the meantime, I've been submitting my collection of Dogs of Manatee County calendar images to various contests and publications, and if I hear any good news you'll be the first to know!

Do you have any family heirloom pet photos? Leave me a comment below if you're on the blog page, or if you're viewing this in the newsletter click through to the blog post and share your memories or photos if you have them! I'd love to see them!
Denise
I have wonderful news!
The Dogs of Manatee County Calendar was featured in a 2-page spread in the Winter issue of The New Barker magazine! A very proud moment for me, and I hope all of the calendar volunteers feel the same!
Have you heard of The New Barker Magazine?
The New Barker is Florida's top dog magazine, a quarterly lifestyle magazine for dogs and their people. Each cover features an original painting by a different Florida artist, this issue (above) showcased caricature artist
John LaFree!
I asked Jayla and Katze what they thought, and if they were impressed by seeing my work featured:
Jayla (above) missed the question entirely, and said the magazine was really comfy, and smelled nice.
And after much deliberation, and pretending to read....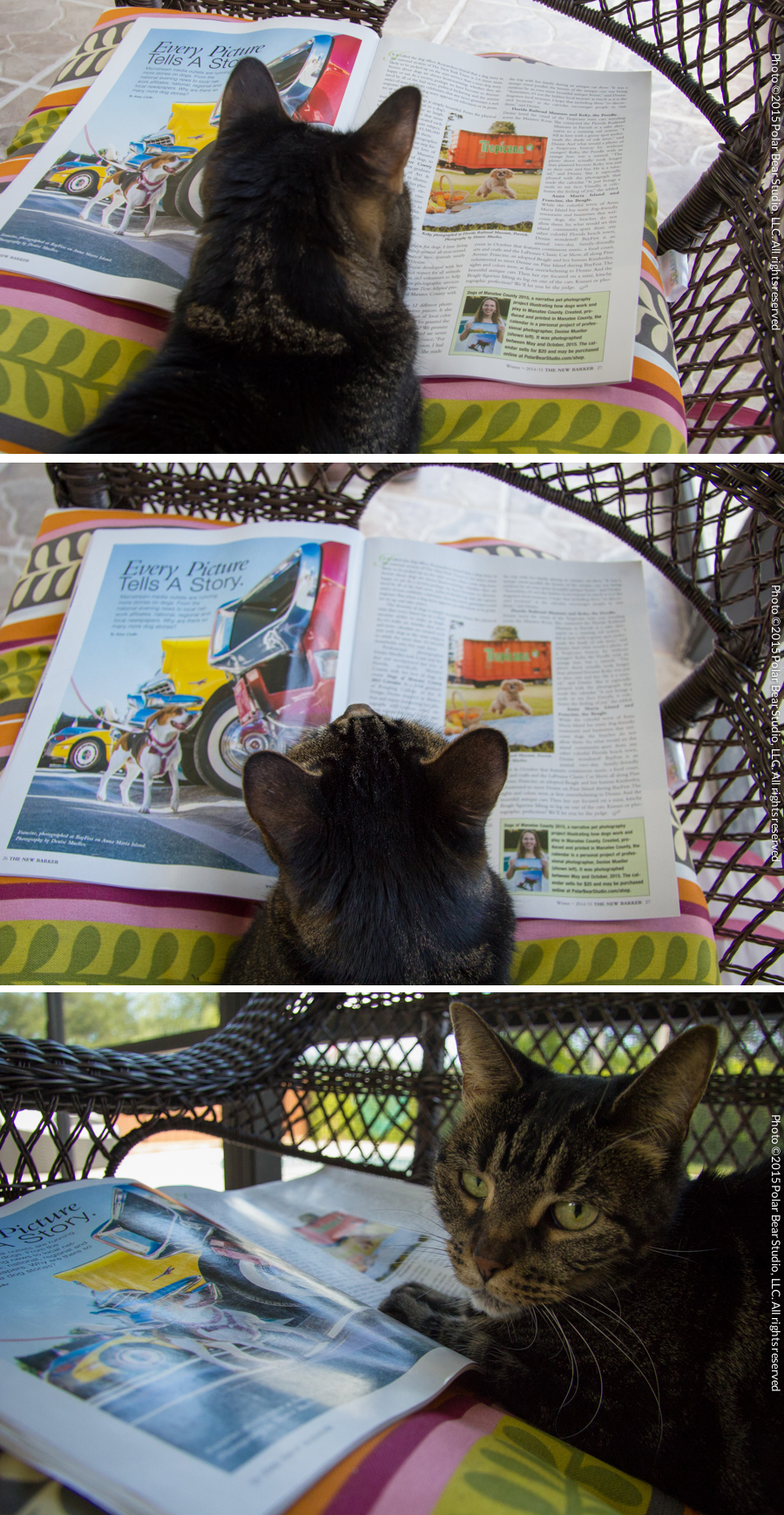 Katze (above) thought, nice, even though there's no cats!
I hope you all had a wonderful holiday season with your loved ones!
Sebastian, Katze, Jayla, and I had a fantastic time! It was a BIG family Christmas with a house full of company, my favorite! Sebastian's parents and sister live in Germany, and we don't get to see them more than once or twice a year, if we're lucky. This year we were really lucky and they were with us for both Christmas and New Year's!
Here's our 2014 Christmas Card photo, my favorite one so far, and the first one to feature Katze and Jayla. Sebastian and I love coming up with creative Christmas card photos, and have been surprising our family with them every year since 2009, the year we married.

When photographing cats, it really helps to know their routine, and use their routine to your advantage. Believe it or not this shot was a piece of cake!
The only part that is photoshopped is Sebastian because we took turns posing. The trick was using a tripod and being careful not to move it. We set up the composition we liked first, knowing we had to build from Jayla's favorite spot on top of the couch.
There's a permanent 'Jayla-size' indent in the top of it! Katze always wants to sit with me when I get home from work in the evening. That particular evening I made a point NOT to sit down, and like a dependable little shadow she followed me around until I did.
Sebastian posed first, while we waited for Jayla to settle in. Once Jayla saw 'her human' laying down, she settled into her spot for the evening catnap. Sebastian and I switch tasks, and I sit on 'my side' of the couch with Jayla, and Katze being so impatient practically jumped up with me before I could even get comfortable. She had her own schedule to keep!
Katze and Jayla were sleepy, so I just plopped down the little German hats on their heads and Sebastian snapped a few shots. We were done before they even knew what happened or what I'd done. The whole shoot took perhaps 15 minutes!
Denise