Perfect Poodle Picnic
My original concept I ultimately decided was too dangerous.
That got your attention didn't it? I love how the Tropicana trains go over the Manatee River, and thought it would be cool if I photographed the train while it was pulling away, and later, after the train was long gone, bring a dog to run on the tracks as if it was chasing the train. I'd arrange a few oranges too as if they had fallen onto the tracks, for good effect!
My gut told me this probably wasn't a good idea, but my mind's eye found it pretty fun. I tried to find out when there would be a train, and when I couldn't figure it out, decided the train operators probably do that on purpose and don't want people to know.
Also, how would I explain to the owners that their dog wouldn't be in any danger, (which I don't think you can ever guarantee). I looked up if it was even legal to photograph on train tracks, and came to the conclusion that really even when the tracks are out of use, its never a good idea because it propels the 'trendiness' of it, encouraging the misconception to anyone who sees your photo that taking pictures on tracks is a good idea. In actuality, photographers meet their demise by train every year, believe it or not!
So I looked into the Florida Railroad Museum in Parrish, and over the Fourth of July holiday, I scouted it out along with several other locations for the calendar.
I fell in love with a beautiful grassy spot underneath the shade of some fantastic old oak trees. I took several test shots, and generic shots of the grounds as well because it would really be charming for any pet photography shoot, not just for the calendar, so I'll be adding it to the locations page soon!
I wrote to the volunteers of the Florida Railroad Museum for permission, and they were delighted to allow a photo shoot! No one would be on any tracks as the train car would just be a back drop. I found a blog featuring several beautiful photos of a breakfast picnic with a bicycle which became my theme and inspiration. The spot I found under the shade of the oak trees was a perfect spot for a picnic, cliché as it sounds! One of my volunteers lived in Parrish, and she has an orange-ish poodle. OMG. His name is Koky, and he's pretty much an adorable, curly haired muppet, and I do love muppets!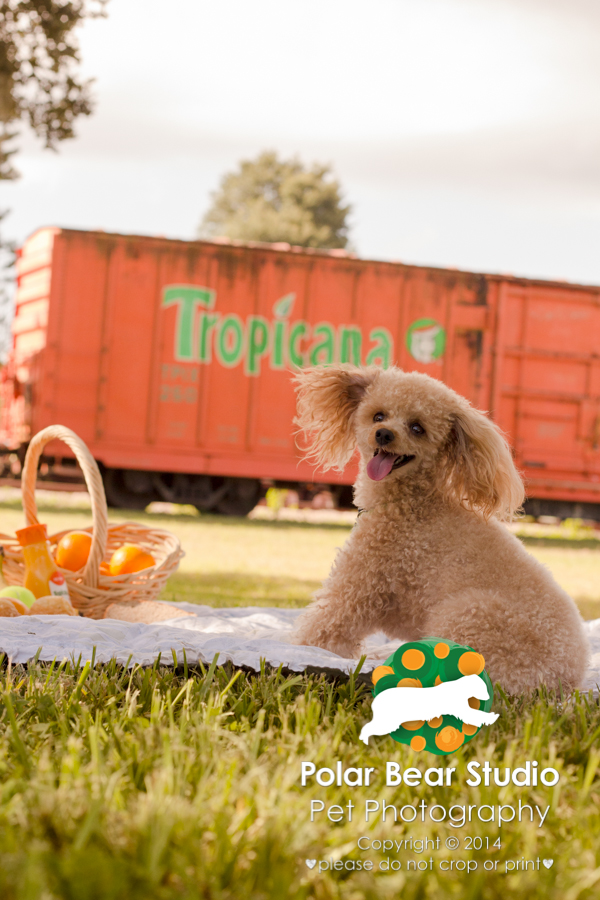 While I had put my original idea to bed, I really did not have a concrete idea of what I wanted to Koky to do.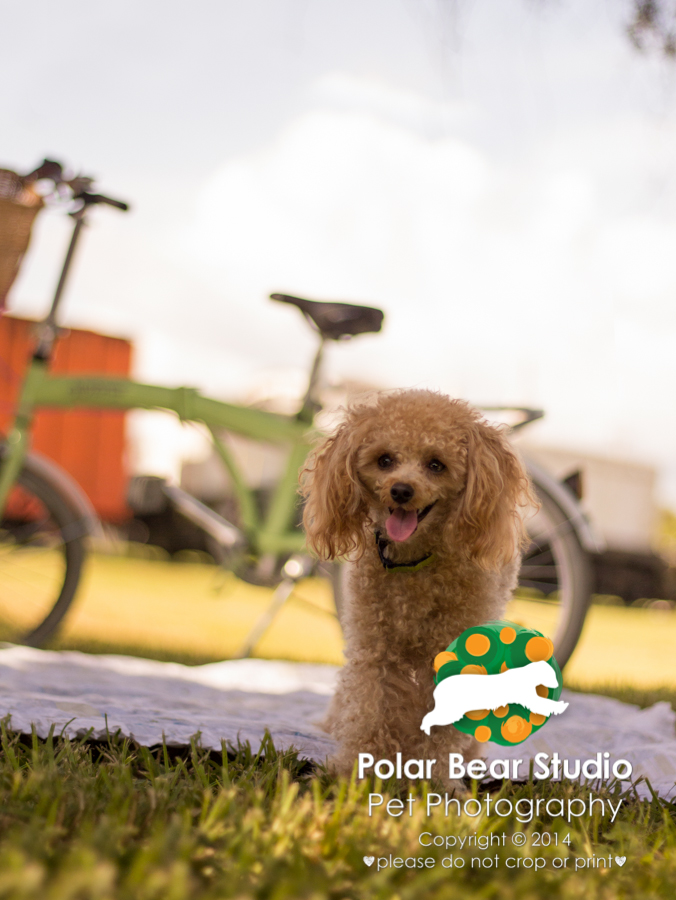 Koky's Mom, Wanda, brought him to the photo shoot, and her beautiful, helpful daughter came along as well. They were both instrumental to working with Koky so I could get the low-angle with a shallow depth of field that makes my heart go pitter-pat.
We did running shots, playing shots, posing, and even a few sneaky ones of Koky sneaking a bite from a muffin. That was Koky's idea. He's a natural.
Ultimately the photo shoot was really long because Koky was irresistibly cute, and Wanda had an impressive amount of patience that waltzed well with my indecisiveness. Thank you so much Wanda! She and her daughter tirelessly, repeatedly ran back and forth in order for Koky to follow them and run in front of my camera. While it was a beautiful morning with a cool breeze, and we were shooting underneath the trees, it was still as humid as a greenhouse and we were all immediately 'glistening'.
I'm deeply pleased with the final shot because not only does it induce a smile, I believe it visually celebrates the feeling of joy. The movement, energy, and composition was a hard-fought-battle and well worth it.
Denise