Favorite Toy, Obviously
One thing you CAN count on in a pet photography shoot is that there will be surprises. But, to tell the truth, this is a good thing, and I would call them happy accidents. And often times it works out better than I imagined. In Akidio the Rottweiler's case, one of my Dogs of Manatee County calendar volunteer models, this is true.
Akidio loves sports, and football especially. You could buy a smaller, dog-appropriately-sized football, but with Akidio that's not necessary. A regular size football suits him fine, and he's content to carry it around in his mouth.
Ok, perfect! We'll have Akidio moving towards the camera with the football in his mouth and the field goal posts behind him. I can hear the Rocky theme song playing in my head already.
I found 'just the spot' at Buffalo Creek Park in Palmetto. I had stopped by after Koky's photo shoot in Parrish, and was pleased with how one of their field goal posts backed up to some trees and foliage rather than a street or another sports field.

I believe Akidio is the second biggest dog I've ever worked with, Harley the Great Dane being the biggest. He's not overweight by any means, but just a ton of muscle. Technically a puppy, he sure doesn't look like one any more! If he was my dog, he would swiftly become my favorite pillow. I would describe Akidio as a 'gentle giant.' He reminds me a bit of Good Dog, Carl from the picture book series.

But, we had a slight problem. For whatever reason, Akidio was not interested in his football...his favorite football. He was in a sluggish mood, although he hadn't really played that day. His parents and I made a valiant effort trying to get him interested: moving to a nearby grassy clearing rather than the football field, trying a stick or towel instead, trying to sneak treats underneath the laces of the football. A brilliant idea Akidio's Dad had, and I might add worked out perfectly for me to get this shot for the calendar. It looks like he just made a touchdown.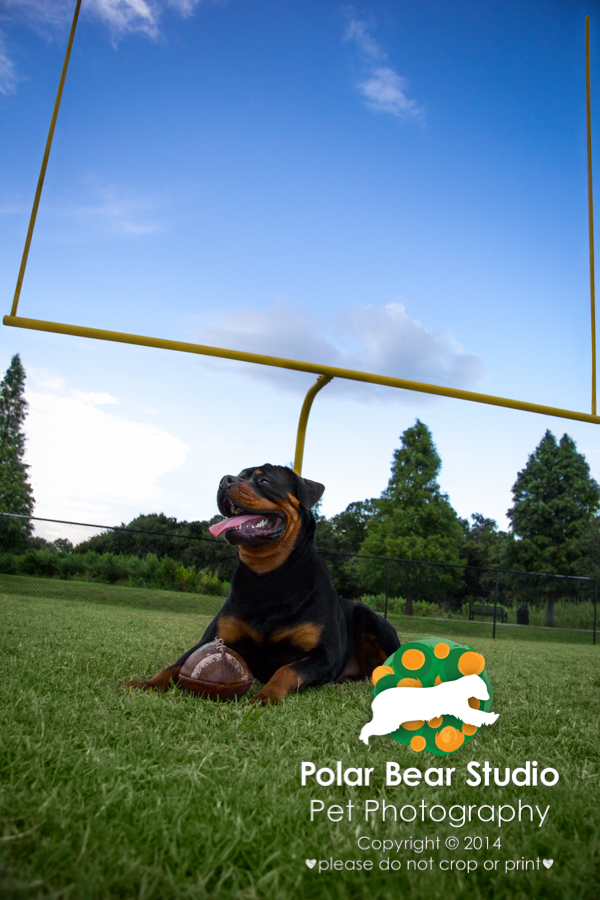 I also captured some real heartbreaker photos of him providing 'puppy-dog-eyes' while curled up with his prized football. I was pleased with what I captured, but we were all puzzled that Akidio didn't want to play with his football. I was confident that what Akidio's parents told me was the truth, but for some reason today was not his day.
A few days later I heard from Akidio's mom that she took Akidio to the vet, and it turned out that he was having issues inside his ears, easily treatable, and now back to normal and playing again. I'm glad he's feeling better!
Thank you Rayvone, Akidio, and Troy for your time and attention-grabbing ideas! I appreciate it!
Denise