Manatee County: World Class Destination
There's something about the Downtown Bradenton Bus Station that really captures my admiration. I'm not sure if its the bright colors, modern design, or practicality of it, perhaps all of the above, but it really draws me in. And I'm not the only one, it was recently recognized as one of the top #5 places in Bradenton to see art.
When I received Jinx's model application with her gorgeous silver fur, I couldn't help but mentally connect her with our vital winter residents who boost our local economy. So with this image, I wanted to honor all of the tourists that choose to spend their vacation where we have the privilege of living all year round. Do you ever stop to think about that? We live here, while others are lucky if they can come to visit. All in all their patronage provides for many families, in particular my own. So in choosing a beautiful local spot to highlight or symbolize our flow of visitors, I decided the Downtown Bradenton Bus Station was perfect.
Jinx's Dad brought her early to the photo shoot because she's very timid, and wanted to get her well-adjusted to her new surroundings. They adopted her only a month or so ago. I scheduled the shoot for an early Saturday morning to try and avoid the extreme summer heat as well as hoping the bus terminal wouldn't be too crowded.
I was worried how the other people would react to us doing a pet photography shoot at the terminal, but it went better than expected. Of course people watched, but everyone kept their distance. What was really kind was that on two different occasions we had travelers warn us when it was time for the buses to arrive. I was usually in the spot where the buses would pull up, and plus the noise they created really made Jinx uncomfortable. Her Dad would take her for a walk when the buses were there, and it was reassuring for me to see her so happy during walk breaks with her Dad.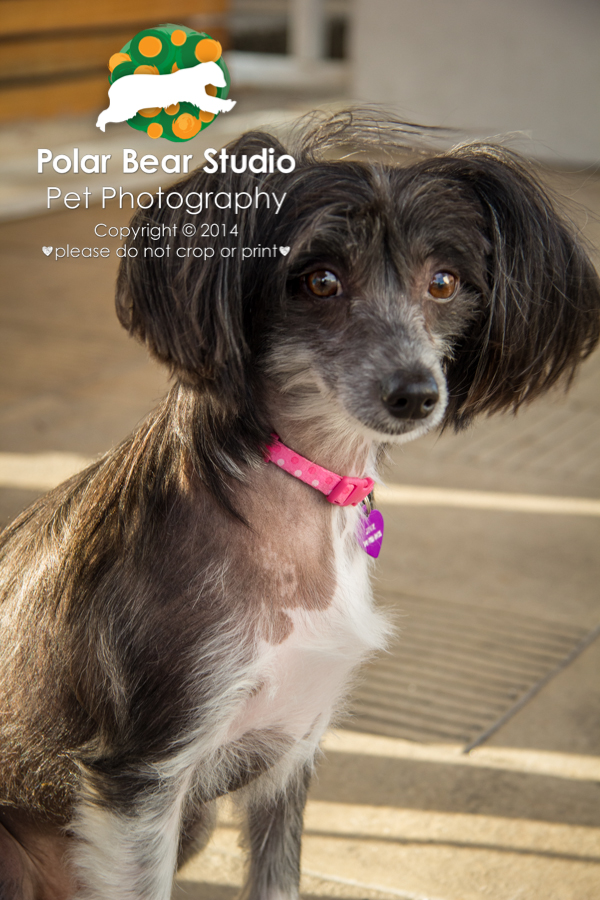 Getting set up for the photo shoot. I usually bring a towel because frequently I'm flat on the ground, laying on my belly when I shoot. I love getting shots from their point of view of the world.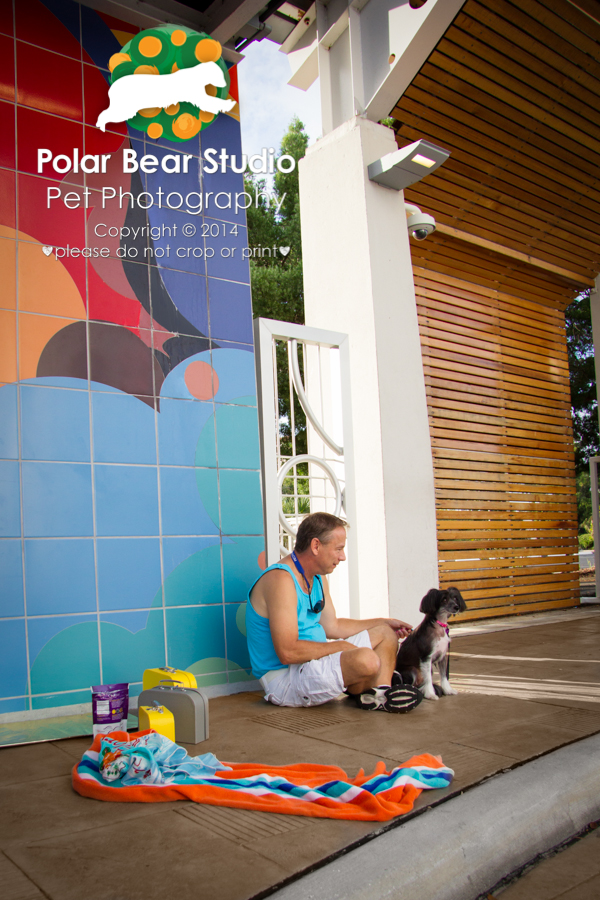 Jinx has great expressions...she's just gorgeous! She celebrated her 4th birthday the week of the shoot, and celebrated with a spa day so she was primped and polished! I love how the groomer left the fur longer on her feet. It made her look like she was wearing white boots.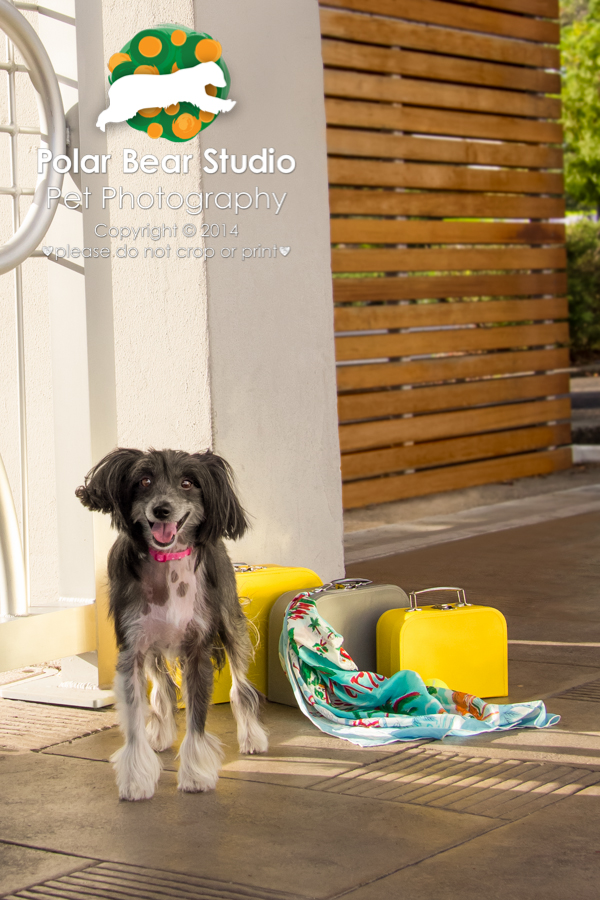 I was a little unsure about putting the scarf on Jinx, I wasn't sure if it would scare her or make her uncomfortable, but her Dad encouraged me. It had quite the opposite effect. It seemed to give her confidence, like a superhero cape! I had the song from West Side Story, 'I feel pretty!' playing in my head while watching her transform.
Below is the shot I'll use for the calendar....LOVE! It has that extra connection through her expression alone, and the lighting on her face is yummy. You can see how great she feels.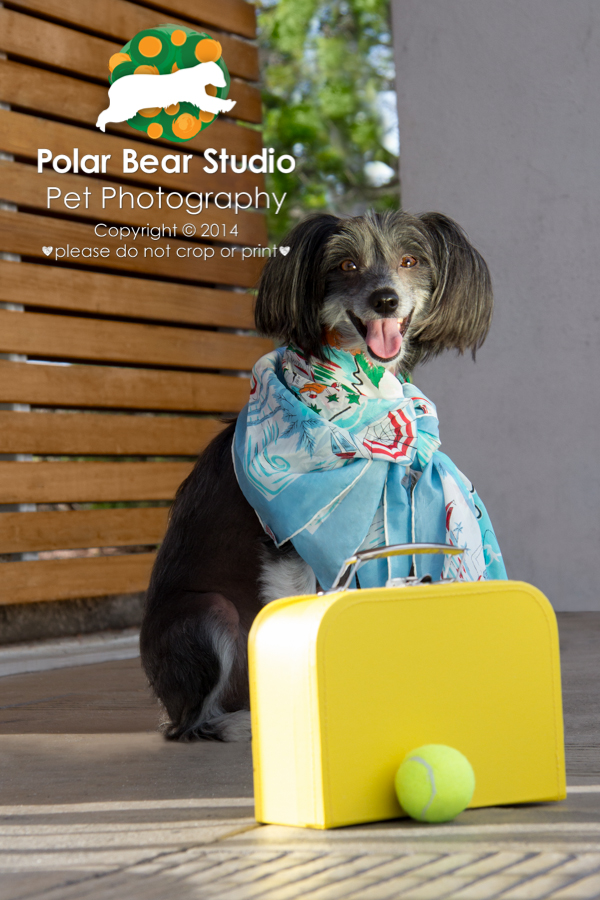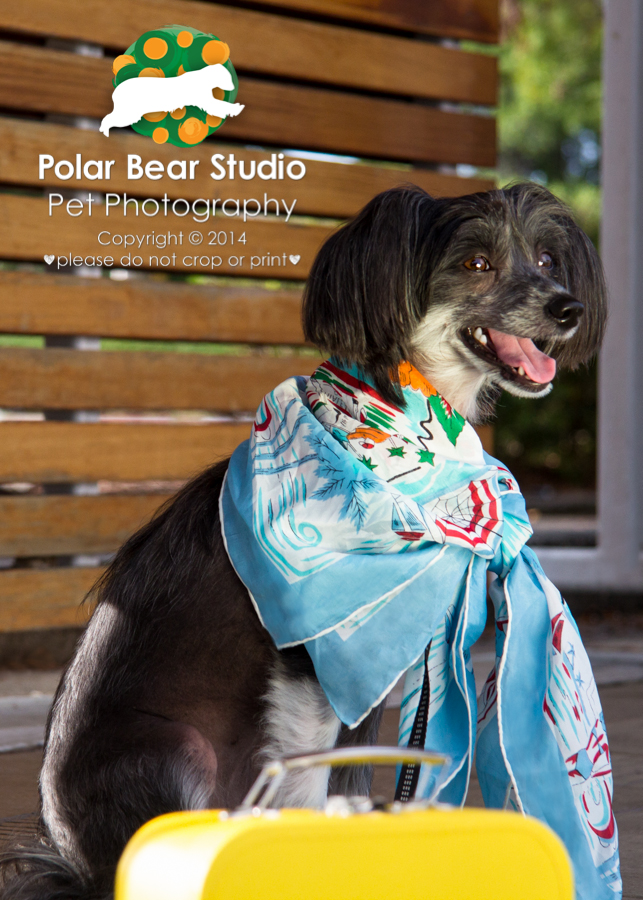 Getting some loving inspiration from her Dad.
Those eyes...so cute. Jinx the Chinese Crested is a heartbreaker! That's all I can say!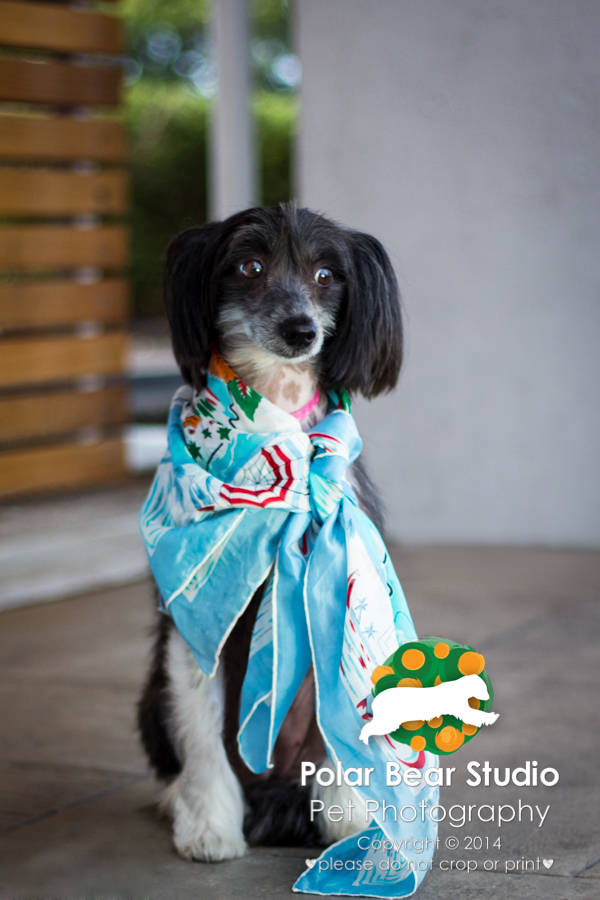 Thank you so much to Jinx and her loving family for allowing her to participate in the Dogs of Manatee County project and for giving their time! I really appreciate you!
Denise